CARING AND SHARING THIS VALENTINE'S DAY WITH STUNNING NEW ITEMS FROM BAILEY OF SHEFFIELD

Introducing Aphrodite and Ares, the latest additions to our Curated Sets.
Stunning CABLE™ stainless steel bracelets in a sleek mixture of Rose Gold and Matte Black colours, each featuring a complimentary matching Signature bead.

Coloured using a PVD (Physical Vapour Deposition) coating primarily used in aerospace and Formula 1 and crafted from the highest quality marine grade 316L stainless steel, your bracelet is then handmade in our workshop in Sheffield situated at Portland Works, the world home of stainless steel. The Bailey of Sheffield CABLE™ bracelet is made to last more than a lifetime.
These work as individual pieces, or you can partner them up for a matching set; perfect for Valentine's Day gifts, Wedding Gifts, Friendship Bracelets and more!
PLUS...
TAKE GIFT PERSONALISATION TO THE NEXT LEVEL WITH
 

IMAGE ENGRAVING!

Now available on the Bailey of Sheffield collection of beads, including the Signature bead included with each CABLE™ stainless steel bracelet purchase. It's really clever stuff, watch the video above to see how it works!

Simply select the Engraving option when choosing your items and follow the on-screen instructions to add image engraving.
COLOURFUL GIFT IDEA
The customisable Mixer Bead is perfect to utilise colour for beautiful personalisation. There's now 15 shades to choose from, including a stunning new White Silver.
The playful and innovative Mixer Bead is the perfect piece to accompany any colour CABLE™ Bracelet. Our most adventurous and customisable bead yet, each bead can be customised with four multi-coloured circular rotating Romer discs sitting on a stainless steel chassis.
The discs are available in both 316L marine grade stainless steel and extra tough anodised aerospace grade aluminium.
Stainless steel Romers are available in our six PVD (Physical Vapour Deposition) colours:- Petrol, Anthracite, Polished Black, Matte Black, Rose Gold and Matte Gold as well as the original Stainless Steel.
Aluminium Romers are available in eight stunning bright colour finishes: Alu White Silver, Alu Red, Alu Blue, Alu Green, Alu Gold, Alu Orange, Alu Black and Alu Purple.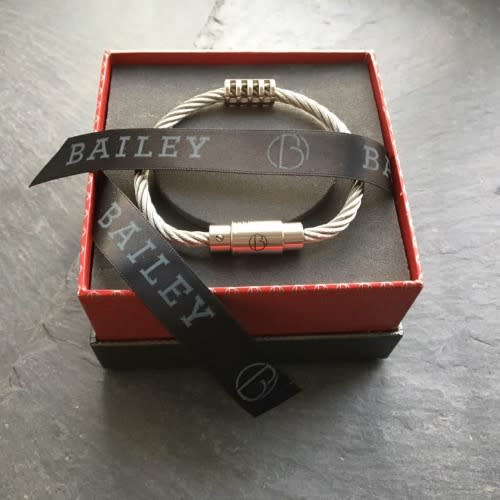 ORDER NOW FOR VALENTINE'S DAY.
Purchase your CABLE™ bracelet or bead before midday on Monday 12th February to guarantee UK shipping for Valentine's Day (subject to stock availability).
CREATE YOUR OWN!
Looking for a totally personal and unique CABLE™ Bracelet? Customise your very own design by selecting from the range of finishes for each element of the piece.

There are many different ways to customise the CABLE bracelet; the clasp and cable are available in the original 316L Stainless Steel or in any of our PVD colour finishes. You can create your own unique clasp, using a separate finish for each of three main sections. Alternatively, if you prefer to keep it simple, your clasp can be all one colour/finish.
Browse the full range of CABLE™ Bracelets, Beads and Accessories for more gift ideas!
---