The CABLE™ Bracelet
Our bracelets come in the following sizes:
X-SMALL
Bracelet size 17.5cm (for wrist size 17cm or below)
SMALL
Bracelet size 19cm (for wrist size 18.5cm or below)
MEDIUM
Bracelet size 20cm (for wrist size 19.5cm or below)
LARGE
Bracelet size 21cm (for wrist size 20.5cm or below)

X- LARGE
Bracelet size 22.5cm (for wrist size 22cm or below)
All bracelets are hand-built and are individually finished in the workshop.
**IF YOU WOULD LIKE A SPECIFIC SIZE NOT LISTED ABOVE PLEASE EMAIL US (hello@baileyofsheffield.com) WE CAN BUILD ANY SIZE THAT'S REQUIRED**
To choose the appropriate size of bracelet for your wrist take a length of string or a strip of paper. Tightly wrap the paper around your wrist and mark the two points where it crosses. Lay the string or paper against a ruler. This measurement is the circumference of your wrist, which you need to record in centimetres.
When selecting the size of your bracelet, please give consideration to how loose you like to wear for comfort.
Exchange or alteration to personalised or customised products are subject to a £25 fee.
If you are unsure which size bracelet to choose we have found the smaller size closest to your measurement is usually the more suitable option.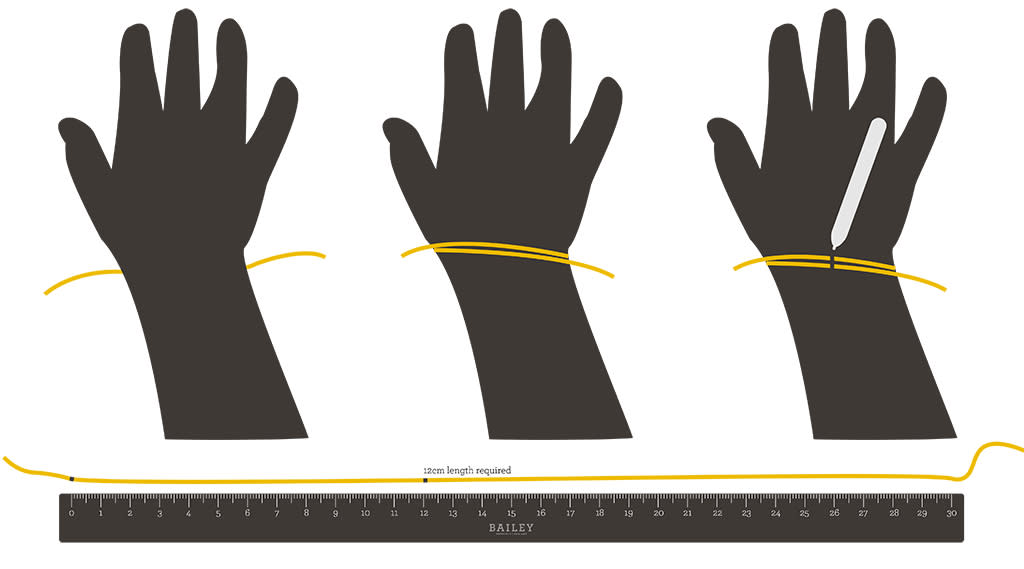 Chain Lengths
X-Small (16")
Small (18")
Medium (22")
Large (28")
X-Large (36")
Please see diagram below for the most common chain lengths. We would suggest measuring an existing chain for accuracy, but this guide will give you an idea of where each size of chain will rest.
We can provide chains in any length outside of the listed sizes above. Please note this would be a custom chain. Please contact us on hello@baileyofsheffield.com for pricing and more information.