The CABLE™ Bracelet
We hand build all our bracelets in our workshop. It is our preference to get an exact wrist measurement so we are able to build a bespoke bracelet for each individual owner. The worshop will add 1cm to your supplied wrist measurement, which allows for any extra beads in the future and will be a nice comfortable fit.
If you can please measure your wrist tightly, around the part you would wear the bracelet. Measure tightly to the skin, do not allow any space for a 'comfortable fit' We need to know the exact measurement of your wrist, the workshop will handle the rest and make sure the bracelet fits nicely.
To measure your wrist take a length of string or a strip of paper and mark the two points where it crosses. Lay the string or paper against a ruler. This measurement is the circumference of your wrist, which you need to record in centimeters.
When selecting the size of your bracelet, please give consideration to how loose you like to wear for comfort as well as if you plan to purchase multiple extra beads in the future.
Our bracelets come in the following standard sizes:
X-SMALL - Bracelet size 17.5cm (for wrist size 17cm or below)
SMALL - Bracelet size 19cm (for wrist size 18.5cm or below)
MEDIUM - Bracelet size 20cm (for wrist size 19.5cm or below)
LARGE - Bracelet size 21cm (for wrist size 20.5cm or below)
X- LARGE - Bracelet size 22.5cm (for wrist size 22cm or below)
**IF YOU WOULD LIKE A SPECIFIC SIZE NOT LISTED PLEASE MEASURE YOUR WRIST AND USE THE 'BESPOKE SIZE' OPTION. WE CAN BUILD ANY SIZE THAT IS REQUIRED**
If the bracelet is a surprise present, we understand that is can be awkward trying to get a size to match the bracelet to. If you are able to get an accurate measurement from the inside of a watch strap or current bracelet that would help. If not our Small and Medium sizes are the most popular by far. If you are not sure, or have any questions at all, please get in contact hello@baileyofsheffield.com
Exchange or alteration to personalised products and products where the customer has confirmed the size was correct before the build are subject to a £25 fee.
Exchange or alteration to a customed bracelet is subject to a £50 fee.
If you are unsure which size bracelet to choose we have found the smaller size closest to your measurement is usually the more suitable option.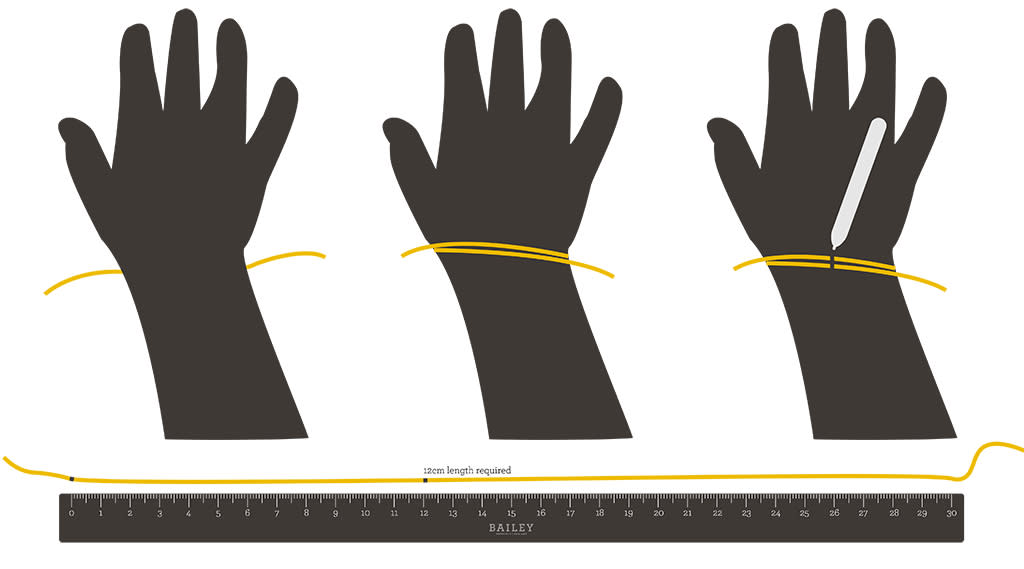 STANDARD CHAIN SIZING:
X-Small (16")
Small (18")
Medium (22")
Large (28")
X-Large (36")
We can provide chains in any length outside of the listed sizes above. We are more than happy to accommodate any size request, we want to make sure you get the perfect length chain.
Please note this would be a custom chain, and you will need to choose the Bespoke option on the drop down size selector when purchasing. There is no extra cost to build a custom size necklace.